Funmilayo Ransome-Kuti ( 1900-1978)

Funmilayo Ransome-Kuti was born on 25th October 1900 as Frances Abigail Olufunmilayo Thomas in Abeokuta, Nigeria, and died in Abeokuta on 12th April 1978. She was the daughter of Daniel Olumoyewa Thomas (a farmer and trader) and Phyllis Moyeni Dese (a dressmaker). She was married to Reverend Israel Oludotun Ransome-Kuti and had four children (Dolapo Ransome-Kuti, Olikoye Ransome-Kuti, Fela Anikulapo-Kuti, and Beko Ransome-Kuti).
Funmilayo Ransome-Kuti often referred to as "The Lioness of Lisabi", was a Nigerian educator, political campaigner, suffragist, and women's rights activist. She was the first female activist in Nigeria and also the first woman to drive a car in Nigeria.
Early Life 
Frances' parents believed in the importance of education for both boys and girls. She attended Abeokuta Grammar School for her secondary education. The school had initially been open only to male students, but it admitted its first female students in 1914, and Funmilayo was first among the six girls registered that year.
In 1919, she went abroad and attended a finishing school for girls in Cheshire, England where she learned elocution, music, dressmaking, French, and various domestic skills. As a young adult, she worked as a teacher, organizing some of the first preschool classes in the country and arranging literacy classes for women.
She married Israel Oludotun Ransome-Kuti, an Anglican minister whom she had met while they were both at grammar school. They first resided in the town of Ijebu-Ode, near Abeokuta, where their daughter Dolupo Ransome-Kuti was born, followed a year later by their son Olikoye. Their sons Fela and Beko were born in 1938 and 1940, respectively. The children attended Abeokuta Grammar School, studied in Great Britain, and they all contributed actively to the future of Nigeria.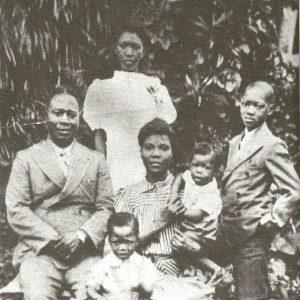 The Ransome-Kutis took an egalitarian approach to marriage and family life. Funmilayo and her husband, Oludoton were on an equal footing, and their daughter and three sons all shared household chores; equality was a way of life, not merely an ideology.
Achievements 
In the 1940s, Funmilayo Ransome-Kuti established the Abeokuta Women's Union, one of the most impressive women's organizations of the 20th century that advocated for women's rights, demanding better representation of women in local governing bodies and an end to unfair taxes on market women. She was a member of the Abeokuta Provincial Conference and worked on a new constitution from 1948- 1951, and was elected world vice president of the Women's International Democratic Federation in 1952.
In 1965, Funmilayo Ransome-Kuti was awarded the Order of Niger for her contributions to the nation and also received an honorary doctorate of law from the University of Ibadan in 1968.
In Abeokuta, she founded a nursery school, and in 1932 she organized the Abeokuta Ladies' Club, which was mostly concerned with charitable work, sewing, catering, and adult education classes.
In 1946, Ransome-Kuti renamed her group the Abeokuta Women's Union (AWU), redefining its activities as essentially political rather than social. The organization's purpose was to "defend, protect, preserve and promote the social, economic, cultural and political rights and interests of the women in Egbaland".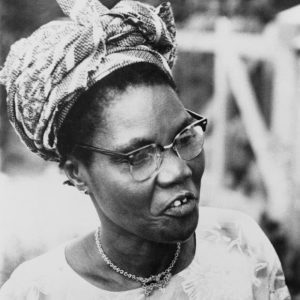 As Ransome-Kuti's political influence grew, she took part in the Nigerian independence movement, attending conferences and joining overseas delegations to discuss proposed national constitutions. Spearheading the creation of the Nigerian Women's Union and the Federation of Nigerian Women's Societies, she advocated for Nigerian women's right to vote and became a noted member of international peace and women's rights movements.
Ransome-Kuti received the Lenin Peace Prize and was awarded membership in the Order of the Niger for her work.
Ransome-Kuti continued her activist role throughout the 1950s.
By 1952, her influence was felt in the international sphere, when she was made world vice-president of the Women's International Democratic Federation. Ransome-Kuti became an advisor to President Kwame Nkrumah of Ghana and used her leadership position in Nigeria and the international community to speak out against injustice.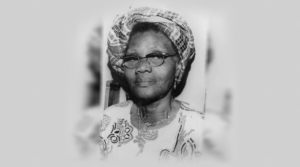 She died in February 1977 when some soldiers arrived at her son's home to confront him. In the ensuing fray, soldiers threw Ransome-Kuti from a second-story window. She sustained injuries from which she never recovered and died at the General Hospital in Lagos on April 13, 1978.
Orisun 2023!
Would you like to explore Nigeria's culture, food and social life in a safe and curated trip?
Last year we had our first Orisun trip to Lagos, Nigeria and this year we will be holding another trip.

Ajala The Traveller Who was Ajala? Moshood Adisa Olabisi Ajala, renowned as Ọlábísí Àjàlá, was a multifaceted Nigerian personality who excelled as a journalist, travel writer, and actor, and…