Ajala The Traveller
Who was Ajala?
Moshood Adisa Olabisi Ajala, renowned as Ọlábísí Àjàlá, was a multifaceted Nigerian personality who excelled as a journalist, travel writer, and actor, and eventually became a prominent figure in Lagos' social scene. He was born on April 3, 1934, in Ghana and was raised in a polygamous household with four wives and approximately thirty children, Olabisi held the position of the twenty-fifth child.
Following their time in Ghana, Ajala's family relocated to Nigeria. In Nigeria, he pursued his education at Baptist Academy in Lagos and Ibadan Boys' High School in Ibadan.
At the age of 18, Ajala embarked on a journey to the United States to pursue pre-medicine studies at the University of Chicago. Notably, he achieved the distinction of being the first black student to join Delta Upsilon Pi, a co-educational Greek-letter organization
However, he veered away from his initial career aspirations, abandoning the path of medicine for a life filled with adventures on the road. Subsequently, he enrolled at Roosevelt University (then known as Roosevelt College) to pursue studies in Psychology.
What Was He Known For?
Renowned as a world traveller, Ajala gained fame through his remarkable escapades in various countries such as Israel, Egypt, Palestine, India, the United States, and numerous other destinations across the globe.
Ajala, much like renowned explorers such as Christopher Columbus, Vasco da Gama, Ferdinand Magellan, James Cook, and Marco Polo symbolizes Europe's exploratory spirit, He served as a representative figure for Africa.
In Nigeria today, Ajala's name has become synonymous with the concept of "travel." It has evolved into a slang used to playfully tease individuals who have a  habit of frequently traveling or being unable to stay in one place. Such individuals are humorously referred to as "Ajala the traveler."
At the young age of 22, Ajala embarked on a bicycle tour spanning 2,280 miles across America. His goal was to teach Americans about the advancements in Nigeria and challenge stereotypes by demonstrating that Nigerians were not simply running around unclothed or wearing loincloths. To emphasize his message, he adorned himself in traditional Nigerian attire. News of his journey rapidly spread throughout the United States, catapulting Ajala into celebrity status.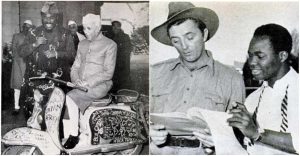 While in Chicago, Àjàlá came up with the idea of a bicycle journey from Chicago to Los Angeles. This cross-country trip covered approximately 2,280 miles and took him 28 days to complete. He began the journey on June 12, 1952, and reached Los Angeles City Hall on July 10.
The remarkable feat garnered him widespread recognition, with major newspapers featuring his story. Àjàlá's early arrival in Los Angeles, two days ahead of schedule, led to a reception by the city's mayor, Fletcher Bowron.
Marriage and Family
Ajala's charismatic persona attracted the attention of numerous women, one of which was Myrtle Basset, a nurse from Chicago. Myrtle Basset became the mother of his first child, Ọládipúpọ́ Andrei Ajala.
He later married Hermine Aileen, an American, and then Joan Simmons, a 19-year-old British actress. His fourth wife was a 28-year-old Australian lady named Joannre Prettan, with whom he had three children.
Additionally, he married Toyin Ajala and Mrs. Sherifat Ajala while in England. His children are scattered across Nigeria, Australia, and London. However, Ajala had a strained relationship with his wives and children, as none of his wives were present during his final moments, and only three of his children stood by his deathbed.
Legal Issues
He had various encounters with the American immigration authorities due to minor offenses, including issuing false checks, and he received a one-year suspended jail term. Also because he neglected his studies — he was ordered to be deported to Nigeria.
He protested the deportation order by climbing an 80-foot radio tower, threatening to kill himself unless the order was rescinded. After nearly 13 hours, he jumped down from about fifteen feet and sustained a sprained back.
He initiated a hunger strike, referring to it as a 30-day Ramadan fasting, before being ultimately deported to London instead of Nigeria.
Legacy
The legendary Juju musician, Ebenezer Obey, in his 1972 hit album, "Board Members," contributed to etching his name in Yoruba folklore when he sang about his adventures with the words "Ajala travelled all over the world."
His name has become synonymous with the concept of travel. It is a popular slang used to playfully tease individuals who have a penchant for being constantly on the move. Such individuals are humorously referred to as "Ajala the traveler."
Olabisi Ajala surpassed the boundaries of a mere compatriot, becoming the very embodiment of adventure. Fearlessly carving his unique path, he embraced life to the fullest in a way that deeply resonated with him. His remarkable legacy transcends national borders, as he continues to be revered as a legendary figure worldwide. Ajala's extraordinary journey has left an indelible mark, forever etching his name in the annals of history.
The life led by Moshood Adisa Olabisi Ajala, also known as Ọlábísí Àjàlá, was nothing short of extraordinary. In the 1950s, he embarked on a motorcycle tour that took him across approximately 87 countries. However, in the early days of 1999, he suffered a stroke, and on February 2, 1999, he passed away.
Unfortunately, by the time of his death, Ajala's fame and wealth had diminished, and he lived a humble life in a poor area of Lagos. Despite his extraordinary adventures and achievements, he departed this world as a simple man in a poor area of Lagos.
ORISUN 2023!
Would you like to explore Nigeria's culture, food, and social life in a safe and curated trip?
Last year we had our first Orisun trip to Lagos, Nigeria and this year we will be holding another trip.

Origin of Ikokore On our culinary journey today, we delve into the tantalizing world of Ikokore, a traditional pottage dish originating from the Ijebu people of Ogun State, Nigeria. With…