MAGUN-THUNDER BOAT
I set out to watch Magun Thunderbolt as it came highly recommended but accidentally watched Magun Thunderboat instead. After watching for a bit, I realised that I seemed to be watching something else but did not think it fair to discard Magun Thunderboat without giving it a chance. 
Magun Thunderboat is available on Youtube and has a runtime of about 75 minutes. This includes unskippable ads for other movies seemingly embedded within the movie. The Stars of the show included Abeni Agbon, Alapini,  Eyinju Edumare,  Lanbebe, Wasiu Olaboshinde amongst others. The story is centred around Osundare and Abike who are lovers, however, the mother of the former and the father of the latter are enemies and are opposed to the union between the two. The movie sees us through their relationship, the conflict created by their parents' opinions and the eventual resolution.
 As already established, the movie has a short running time and it feels like there is a lot to squeeze into this less than 75 minute film. There are some scenes that seem irrelevant, one that comes to mind is the scene where Aremu flirts with Agbeke. Both are friends of the main characters but that scene does nothing for the film. Although the scene is short, it could have been used to establish something more relevant to the storyline. 
Still on the matter of establishing things, it appears as though the cause of rivalry between Ayinke (Osundare's mother) and Balogun (Abike's father) is not concretely established. It is not a feud that has lasted for generations nor is it an unforgivable mistake on the part of one that led to misunderstanding and then conflict. It doesn't necessarily have to be an 'either or' scenario, there are many reasons to become enemies, petty reasons in fact but the feud between the parents appears to be not well established. 
This fault rears its head again thinking about the commencement of Osundare and Abike's relationship. I won't spoil it by telling you how it came to be, but I was quite surprised when I learned that they had started seeing each other. Perhaps it was that easy in Yorubaland back in the day but I was intrigued as to how their relationship was set up.
Yoruba land back in the day appears accurately represented; from the hairstyles (which we have an IG post on) to the dressing, use of adage and the general set up, Alaraba village and its occupants were well done and it is commendable. 
The prominent theme of the film is love, particularly against the backdrop of unwilling parents. We also see Yoruba spirituality having a major presence with Ayinke being a priestess, the various incantations recited in the movie and the feuding parents attacking each other with their powers. Meanwhile, the education of Osundare and the students on some of the gods in Yoruba land attends not only to Yoruba spirituality, but also informal education back in the day. It would have been interesting to see more informal education for other prominent Yoruba vocations and trades. 
Clearly I have not watched Magun Thunderbolt however, Magun thunderboat was not a waste of time. A few things piqued my interest and I will further explore several things that the movie presented; however, I am most pained about the dilemma of translation which was evident in the movie. The subtitles available did a good job but one is aware that not everything can be accurately conveyed in another language. Certain words or phrases do not hit as they ought to because the translation felt watered down or incapable of properly expressing what needed to be expressed. We do in fact have a Linkedin post discussing this. 
Give Magun Thunderboat a watch if you are interested based on the above and tell us what you think. I'll be off to watch Magun Thunderbolt and will be back to write about it.  
Written by,
Tishe
Check out our Yoruba Vocabulary Learning Flashcards!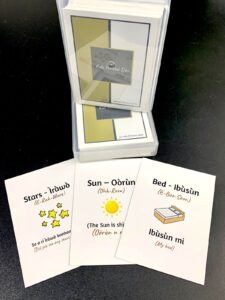 Learning Yoruba Language is fun with our colourful Yoruba Flashcards.

Land of Honour and Integrity History Ekiti State is located in the South Western region of Nigeria. Ekiti State (Yoruba: Ìpínlẹ̀ Èkìtì) shares borders with Kwara State to the north,…